Veteran Options
VA loans are a benefit available to active-duty military members, veterans, and their surviving spouses and immediate families.
Starboard is proud to support retired, reservist, and active duty members of the U.S. Armed Forces by providing easy access to home loans guaranteed by the Veterans' Administration. The VA Home Loan can be utilized to purchase or build a home for your own personal occupancy or "primary residence". Depending on the time period in which you served, you may qualify for VA Home Loan Benefits with only 90 days of active duty, National Guard, or reserve service. As VA Home Loans do not require a down payment or private mortgage insurance, you can finance up to 100% of a home's value without the stress of added insurance payments. All that you need is suitable credit, sufficient income, and a valid Certificate of Eligibility, along with a copy of your DD-214 discharge form if you have separated from service. If you don't have a current copy of your Certificate of Eligibility, Starboard can work directly with the VA to help you obtain one.
Because VA Home Loans are a benefit earned through service to our country, they come with relaxed credit qualifying standards compared to non-veteran loan programs, so even if you have prior Bankruptcy and/or Foreclosures, you should consult with one of our Loan Officers about the approval process. Furthermore, Veterans who receive disability benefits from the VA are exempt from the funding fee. This can result in a significant payment savings when compared to non-veteran loan programs.
Starboard also offers great interest rates on VA refinance loans to Veterans who already own a home; whether you are looking to access existing equity in your property to obtain cash back at closing, or simply desire to lower your existing interest rate and monthly payments, Starboard is here to serve you. Give us a call today.
Please note that the VA loan can not be used to purchase a second residency. Although you will be able to use benefits, with a chance at waiving the down payment.  
VA Loan Benefits
Available to veterans, reservists, active-duty personnel, and surviving spouses of veterans based on military entitlement
No down payment*
No cash reserves
No application fee
No monthly mortgage insurance premiums
VA funding fee may be financed
Seller can pay certain closing costs 
Can alleviate consumer debt with the refinance loan program**
1-4 unit primary residences with restrictions
VA assistance to veterans in default
*Up to 100% financing (based on VA lending limits) may be available for purchase loans, and up to 90% for cash-out refinances. Gift funds or bond programs for closing cost assistance are allowed.
**Please consult your financial advisor about the consolidation of short term debt into long term debt.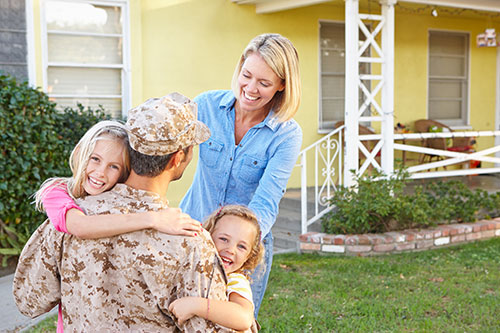 More Info
Contact Us today if you would like to discuss products for veterans or if you have any inquiries about our product offerings. If you do not have any questions and are ready to submit your information for a loan decision, please Apply Now.
Thank you for letting Starboard Financial show you -The Right Way- in mortgage lending!